Quotes to Celebrate the Creative Process
(adapted from original blog post titled "Quotes to Celebrate Love, Light, and the Creative Process on April 19. 2018 on Of Love and Light website)
I always loved reading as a child. Sadly, once I got to high school, I hated 90% of the literature assigned—stuffy old texts with descriptions of settings that dragged on for pages, and female characters that lacked depth and mostly lived off the page, entering the story only when necessary to shape the male characters' experience. I'll admit, many of the books I didn't even read—I'd skim the first and last page of each chapter and listen carefully to the lectures in order to ace the tests.
But I Know Why The Caged Bird Sings was different. I fell in love with Maya Angelou, with her lyrical prose, her wisdom and inner strength, her courage and honesty, and her vulnerability. There was a beauty in her sadness that lingered, long after I could remember the details of her story. When I think of a creative legacy whose words will forever hold the power to touch a soul, I think of Maya Angelou.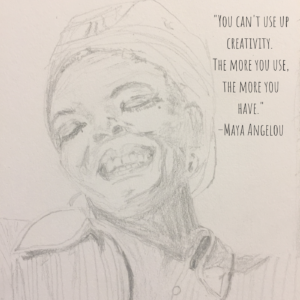 That is why I felt drawn to sketch her a few nights ago, and share her image along with the quote at the top of this post.
"You can't use up creativity. The more you use, the more you have."
This is a selection of some of my favorite quotes that I like to visit time and again, that inspire me to live a life of love, light, and creativity. I could probably write an essay about each, but I won't… at least for now.
Enjoy!
Anne Frank
"How wonderful it is that nobody need wait a single moment before starting to improve the world."
Piet Mondrian
"The position of the artist is humble. (They are) essentially a channel."
Yayoi Kusama
"I wanted to start a revolution, using art to build the sort of society I myself envisioned."
Jean Houston
"At the height of laughter, the universe is flung into a kaleidoscope of new possibilities."
Steve Jobs
"Creativity is just connecting things. When you ask creative people how they did something, they feel a little guilty because they didn't really do it. They just saw something. It seemed obvious to them… That's because they were able to connect experiences they've had and synthesize new things."
Jackson Pollack
"The painting has a life of its own. I try to let it come through."
William Plomer
"Creativity is the power to connect the seemingly unconnected."
George Lois
"Creativity can solve almost any problem. The creative act, the defeat of habit by originality, overcomes everything."
Keith Haring
"When it is working, you completely go into another place, you're tapping into things that are totally universal, completely beyond your ego and your own self. That's what it's all about"
What quote(s) would you add? Contact me and let me know!